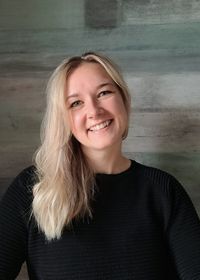 Rhea Lewandoski, Registered Dietitian
College of Pharmacy and Nutrition
University of Saskatchewan
Rhea is a registered dietitian currently practicing with Westwind Counselling in Kelowna, BC. Rhea has been working in the field of eating disorders since 2018 and has been fortunate enough to spend all her professional experience as a clinician in residential treatment in Saskatchewan and British Columbia. Because of this, she has worked with individuals with a variety of disordered eating and mental health experiences. She completed her undergrad in psychology and nutrition at the University of Saskatchewan and became a registered dietitian in 2018. She is currently competing her MSc at the University of Saskatchewan. Her thesis focused on residential care in Saskatchewan and its impact on quality of life. With her experience as a clinician, she has provided a unique lens to her research in residential care. Rhea is also a certified mindful eating facilitator and is working towards her CEDRD with the International Association of Eating Disorder Professionals (iaedp). She approaches nutrition, eating behaviours, and eating disorder treatment with curiosity and compassion. Rhea is continuously learning and challenging her own biases to provide better care for all individuals. She practices passionately with the Health At Every Size® and non-diet approaches and aims to create a safe and compassionate environment for clients to actively participate in their recovery.
Residential Treatment and Its Role in Eating Disorder Recovery
Residential treatment for eating disorder (ED) recovery is not a new form of treatment, however it remains relatively unrecognized. This presentation will provide an overview of the unique multidisciplinary care model followed by residential treatment centres in Canada. The role of a registered dietitian and approaches to client care in the residential treatment care context will be reviewed. The use of non-traditional treatment outcomes will be discussed, with an emphasis on the benefits of incorporating non-weight based outcomes, such as quality of life, into treatment programs. New research examining the impact of residential treatment care on ED-related quality of life will be presented to further highlight the importance of utilizing a variety of tools to assess treatment outcomes. Lastly, guidance on navigating residential treatment in Canada, with a focus on private versus public care and what steps may be needed to access residential care, will be provided. After attending this presentation attendees will be able to: 1. Discuss the key components of residential ED treatment models. 2. State at least one non-weight based indicator used to evaluate treatment effectiveness. 3. Identify when residential treatment is an appropriate level of care for an individual with a suspected ED.