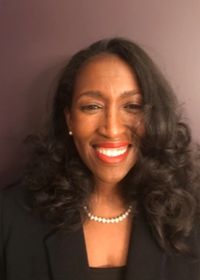 Charlynn Small, Asst. Dir. Health Promotion/Staff Psychologist
Counseling and Psychological Services (CAPS)
University of Richmond
Charlynn Small, PhD, LCP, CEDS-S is Assistant Director for Health Promotion at the University of Richmond's Counseling and Psychological Services (CAPS) in Virginia. She also serves as the Embedded Behavioral Health Clinician at the University's Student Health Center. Dr. Small is a frequent speaker at national and international conferences, advocating for the awareness and treatment of eating disorders affecting Black women and other underrepresented groups. She received her PhD from Howard University's School of Education. Dr. Small is Board of Directors President Elect-Appointee (2023-2025), of the International Association of Eating Disorders Professionals Foundation (iaedp™) and is a certified member and Approved Supervisor (CEDS-S) of iaedp™. She co-founded the Foundation's African-American Eating Disorders Professionals (AAEDP) Committee and currently serves as Certification Chair of the Richmond, VA Chapter of iaedp™. She has also served on the Advisory Board for the National Association of Anorexia Nervosa and Associated Disorders (ANAD). Dr. Small is co-founder/principal of the Institute for Antiracism and Equity in Mental Health and also is the co-editor of Treating Black Women with Eating Disorders: A Clinician's Guide, Routledge, Taylor & Francis (July 2021).
Eating Because We're Hungry or Because Something's Eating Us?: Body Image Issues and Eating Disorders in Black Women
Much of the growing literature on Black women and body image addresses the misconception that these groups are well-protected from eating disorders (ED). Reasons for this fallacy include sociocultural models of eating pathology, clinical approaches to classification, the extent measures for assessing symptoms and risk factors, and conflicting research results. Some research suggests that Black women grapple with EDs at rates equal to or perhaps even higher than White women. Still, many health care providers fail to recognize these disorders in Black women. This presentation will address one of the primary reasons for this failure and also focuses on many of the unique experiences and challenges of Black women (i.e., racism, acculturative stress, disproportionate rates of adverse childhood disorders, etc.) that contribute to ED vulnerability and body image issues. Some attention will also be given to barriers to treatment access, such as the colonization of healthcare. Recommendations for effective and culturally sensitive care are offered.